Take Action

ACTION ALERTS               COMMUNITY EFFORTS               JOIN US                PREVIOUS ACTION ALERTS
Get Involved
The Rachel Carson Council is a nationwide membership organization that engages and empowers our supporters to take effective action in communities and campuses at the local, state, and national level. With the leadership of our President and CEO, Dr. Robert K. Musil, the RCC is a respected voice for policy change in the nation's capital.
In addition to our work on Capitol Hill, the RCC currently focuses its organizing at the grassroots level in North Carolina, Maryland, and Pennsyvania.
 
---
Action Alerts
On Tuesday, the Senate is going to vote on Senator Joe Manchin's side deal to the Inflation Reduction Act of 2022, the Energy Independence and Security Act of 2022. Section 24 of the deal's text explicitly requires federal approval of Equitran Midstream Corp's permitting application for the infamous Mountain Valley Pipeline. (MVP) This $6.6 billion natural gas pipeline project would ravage over 300 miles of land between Virginia and West Virginia. We cannot let this deal pass.
https://rachelcarsoncouncil.org/stop-the-mvp/?eType=EmailBlastContent&eId=9b18af8d-c9de-4f04-9831-58ab6e09fb15That's why we're writing to you, urging you to take action immediate action! Tell your Senators to intervene and oppose the deal unless the language on the Mountain Valley Pipeline is removed.
---
Tell President Biden to halt construction of the MVP and reaffirm his legacy of bold environmental and climate legislative progress. 09-02-22

The passage of the Inflation Reduction Act of 2022 marked the most ambitious climate legislation ever put forth by the United States government. However, the package contains certain climate-damaging provisions to appease fossil fuel industry-backed Senator Joe Manchin.
While we should celebrate the momentous environmental victory wrought by the IRA, we can't stand idly by as Manchin gets his way on the construction of dangerous projects such as the Mountain Valley Pipeline (MVP) in Virginia and West Virginia.
The MVP, if constructed, will ravage over 300 miles of land from southern Virginia to northwestern West Virginia. Additionally, it marks a significant investment in natural gas energy at a time when our country desperately needs to make a rapid and comprehensive shift to renewable energy.
---
Tell Biden's head of the DOI's Bureau of Ocean Energy Management (BOEM) Kelly Hammerle no to new offshore drilling! 07-18-22

The Department of Interior's Bureau of Ocean Energy Management just released their Proposed Program for offshore drilling on the Outer Continental Shelf for the 2023-2028 period. It sanctions up to 11 new offshore drilling operations – 10 in the Gulf of Mexico and one in Alaska's Cook Inlet.
Leasing new offshore drilling operations only contributes to our spiraling climate crisis. And, offshore oil drilling regularly leads to oil spills like Deep Horizon harming the health and safety of coastal communities in the Gulf and marine life like the threatened beluga whale in the Arctic.
https://rachelcarsoncouncil.salsalabs.org/stopnewoff-shoreoildrillingleasesPresident Biden promised to halt new offshore oil production on the campaign trail: it's time for him and his officials to make good on that promise and urge his cabinet to approve of #NoNewLeases in the Proposed Program.
But you can tell that directly to Biden's head of the DOI's Bureau of Ocean Energy Management (BOEM) Kelly Hammerle. Just click to send detailed comments which you can edit or personalize.
---
Tell your U.S. Senators to cosponsor S. 4187, the Neotropical Migratory Bird Conservation Enhancements Act. 06-17-22

In her landmark book, Silent Spring, Rachel Carson wrote about the destruction of birds from the indiscriminate use of chemical pesticides. Worse, the loss of birds is a harbinger of ecosystem collapse.
Now, 60 years later, we have a chance to tell our U.S. Senators to co-sponsor the Neotropical Migratory Bird Conservation Enhancements Act that would ensure that the EPA reins in pesticides that threaten birds and the insects they rely upon for food.
---
TELL CONGRESS THEY MUST PASS VITAL CLIMATE LEGISLATION – THE BUILD BACK BETTER ACT – NOW!!! 11-09-21
It can be confusing. Congress just passed the infrastructure bill. And the White House has celebrated a victory. But most of the big, innovative, and vital climate spending and programs are in what is called the Build Back Better (BBB) Act.
BBB has over half a trillion dollars out of $1.75 trillion for clean energy tax credits, manufacturing wind turbines and solar panels, environmental justice measures like replacing diesel school buses, and heavy-duty trucks, as well as measures like coastal restoration, forest protection, and more.
But so-called moderate Democrats and Congressional Republicans have again held up passing Build Back Better. The measure, already cut to appease members like coal baron Sen. Joe Manchin, is vital to slowing climate change and moving to renewable energy.
---
Community Efforts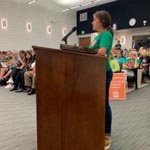 The Sampson County Public Hearing on Wood Pellets and the Industry that Divided It
On July 15, 2019 environmentalists and community members from across the state of North Carolina and visitors from Virginia and the United Kingdom showed up and gave public testimony against the proposed expansion of Enviva Sampson, an industrial wood pellet producer. Their words spoke truth to power, and the message was clear – North Carolinians want an end to the wood pellet industry in their state.
As detailed in our 2019 report, Clear Cut, Enviva has entrenched itself in North Carolina. It is a part of a system which harms the environment, perpetuates injustices against frontline groups, and divides communities under the guise of economic development.
Eastern North Carolina and its beautiful coast has and always will be home to me. I work now for the Rachel Carson Council (RCC) in Washington, DC, but this past week, I was able to return home to continue critical work being done by the RCC and others to protect the unique environments and communities that also call the area home. Growing up in North Carolina, respect and awe for the natural world around me were instilled from an early age. I remember warm summer nights with the constant hum of cicadas when I would stay up to the wee hours of the morning to watch for sea turtle hatchlings boiling out of the sand and scramble to the safety of the ocean. I remember taking back country roads and driving for miles with nothing but lush forests on either side of the road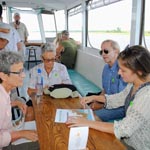 Environmental advocates discuss wood pellet industry's impact on humans and the environment
Environmental advocacy groups gathered Friday to discuss the impact of the wood pellet industry on climate and public health during a boat ride on the Cape Fear River in Wilmington. People from groups including the Rachel Carson Council, Carolina Wetlands Association, NAACP, Alliance for Cape Fear Trees, Wood Pellet Forum, Cape Fear Sierra Club, and Clean Air Carolina attended. Dr. Kyle Horton, a Democratic candidate for the U.S. House of Representatives, was also in attendance. The boat travelled past wood pellet dome silos maintained by Enviva. The boat travelled past wood pellet dome silos maintained by Enviva, a company that bills itself as the world's largest producer of wood pellets.
Don't Burn Trees to Fight Climate Change—Let Them Grow
Of all the solutions to climate change, ones that involve trees make people the happiest. Earlier this year, when a Swiss study announced that planting 1.2 trillion trees might cancel out a decade's worth of carbon emissions, people swooned (at least on Twitter). And last month, when Ethiopian officials announced that twenty-three million of their citizens had planted three hundred and fifty million trees in a single day, the swooning intensified. Someone tweeted, "This should be like the ice bucket challenge thing." So it may surprise you to learn that, at the moment, the main way in which the world employs trees to fight climate change is by cutting them down and burning them. Across much of Europe, countries and utilities are meeting their carbon-reduction targets by importing wood pellets from the southeastern United States and burning them in place of coal: giant ships keep up a steady flow of wood across the Atlantic.
Northampton County, NC: More Enviva Expansion?
On August 20, The Rachel Carson Council (RCC) called yet again for environmentalists, activists and community members to provide testimony for the third proposed expansion of an Enviva plant in North Carolina in less than a year. The Northampton County Enviva plant is seeking to grow its operations to produce 780,000 tons of wood pellets per year. That equals approximately 18,000 acres of forestland destruction in North Carolina and Virginia. At a time when the climate crisis is getting worse, and with clear science showing the destructive nature of the wood pellet industry, such expansions are absolutely unacceptable.
The Enviva Southampton Plant & Enviva's Fourth Expansion in a Year
In an unsurprising turn of events, Enviva has applied for its fourth expansion permit in under a year for its Southampton Plant located in Franklin, Virginia. This expansion would increase production by 246,000 tons per year equaling another 5,600 acres of forests cut down annually. This is unacceptable. We are on the precipice of climate disaster, and the only tried and true way to draw down carbon from the atmosphere is through the protection and expansion of biodiverse forests. Every week, more reports and investigations are demonstrating that forests are key to any climate solution and that the wood pellet industry is failing to properly source its materials, failing to protect communities' health, and worsening our climate through its operations.